Best Birthday a Poet could have
Now, when you get to the end of this you might hate me. But, there I was at BookCon fresh with autographs from Trista Mateer, Cyrus Parker, Iain S. Thomas, Nikita Gill and K.Y. Robinson. I was dead tired.
(I was working on four hours of bus sleep)
I was nodding off at the table and Iain taps me on my shoulder. I'm like, "okay, there's Iain so where's K.Y. Robinson and Nikita Gill?" Had it just been Iain it would have still been awesome. Poets are special people. Come to think of it, I met a fifteen year old in line who was a fan of Iain's. She clutched a book of his while describing how awesome he was.
The ladies came over shortly after, followed by Trista Mateer and Caitlyn Siehl. In any case, I was like "Wow!" I was ready to go home due to lack of sleep, but I was consuming food with award winning best selling writers. It was so surreal. My money had just become well invested money... it got even better.
Nikita Gill talked while Iain gently pushed her head down onto her arms. Trista took a motion too and Nikita stopped talking. I remember thinking, "What was that?" We talked about the royal wedding and who had on what. We agreed someone had on too much Gucci.
Moments went by and I looked up... guess who who was standing there? It was Amanda Lovelace! You may also know her as @ladybookmad. I don't remember speaking, I just grabbed chairs and asked about the cat. Cyrus Parker and Summer also arrived. Amanda's Husband, the DropKick Poet also arrived and Summer, a popular book influencer, showed up too.
Somewhere in this blur I was properly introduced to Summer and Caitlyn. Summer is a name to know. Writers and readers should follow her to stay up on the new books coming out. I noticed Summer didn't get in this picture. Summer where are you?
Caitlyn Siehl is an amazing writer. I mean she was introduced as "Charles do you know who she is?", so I google to find out and she's brilliant. Just Brilliant. If you're reading this, her book could use about 14 more reviews on Amazon. It's only $15 dollars.
Somewhere here and there Caitlyn and Cyrus ran off to get coffee, other than Starbucks, in a Heroic and unsuccessful ttempt to get a good cup of coffee.
Nikita ran off with the phone. Trista mentors Caitlyn, yes I heard all that. Iain is explained something, but I couldn't hear. I was talking to K.Y. Robinson and taking in all of the positive energy. I needed to be in that space.
Unfortunately, this moment in time came to an end. I was able to catch them again on the panel. It was abundantly clear that they are really good people who champion woman's rights, mental health awareness, gay rights, sexual assault awareness and good coffee. I loved this and I don't think I deserve a better birthday gift. But, if you wan, you can buy my book. This experience fueled my feverish appetite to create. My projects are only slowed by time and money. Just yesterday I completed a chap book about a girl from New York City. It's ironic that this all happened in the Javits center. I'll complete two chap books by the end of the year and announce the final book of my series that pulled me from the jaws of depression.
This blog was supposed to end already, but I'm surfing twitter and Iain S. Thomas shares a birthday with me. That is pretty awesome. Lets wish Iain S. Thomas a Happy Birthday!!! If there are typos in this blog, blame the birthday because I can't wait for an editor. I have to post this on my... I mean the day I share with this amazing poet.
I didn't get Amanda's autograph. I left my book home but I did manage to get this (see above pic). Also, I witnessed Amanda's impact on one of her fans. I didn't get to hear what was said. I instantly knew it was a moment. She impacts the world. I love that.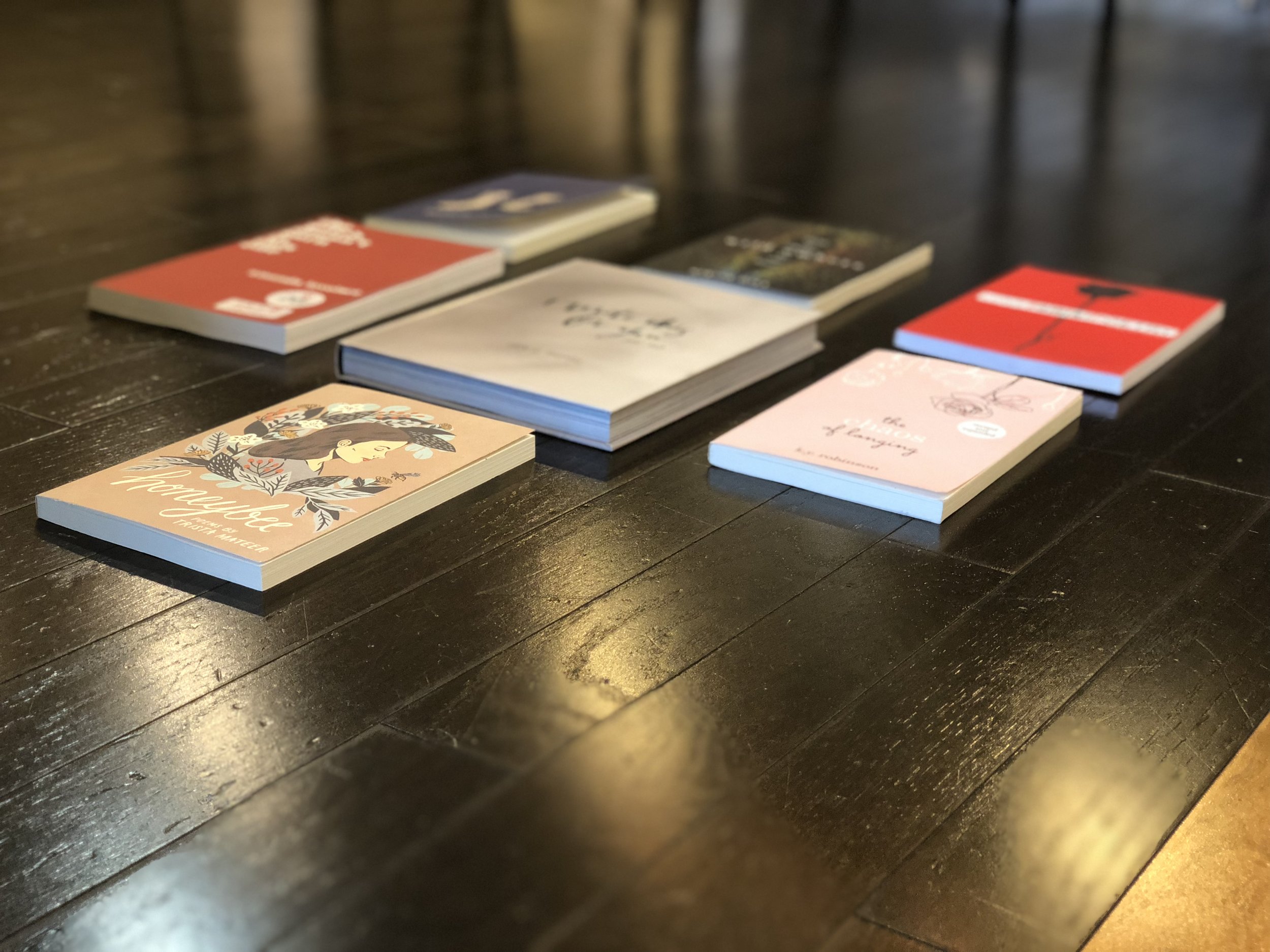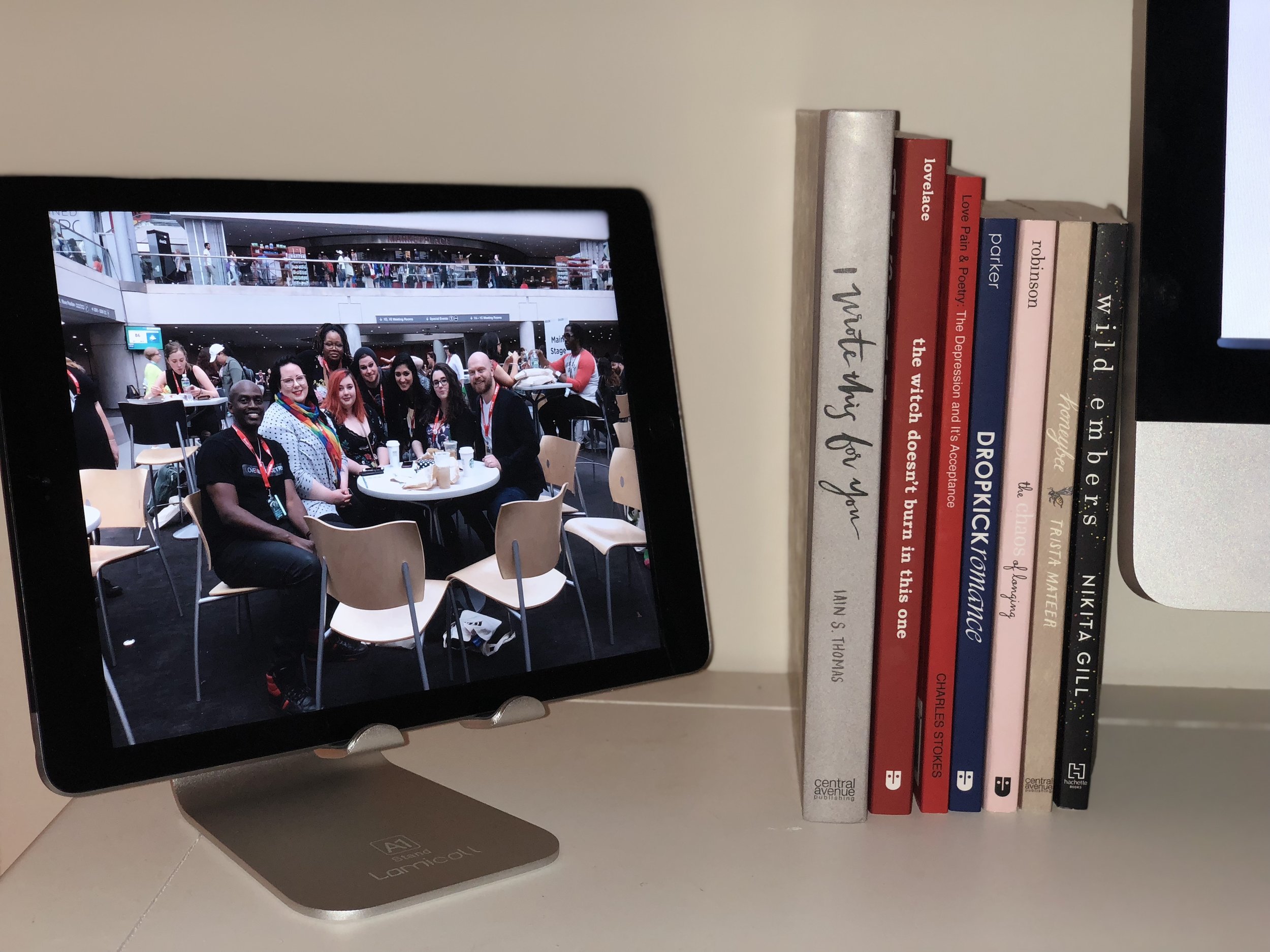 My work space dressed with some poets I admire.